"On a flight of fancy I moved to a small town in western Kansas and took a job as the editor of the local newspaper. It was a classic single-person operation. I was the editor, the writer, the photographer and did all of the layouts for each week's edition. I found the work to be incredibly satisfying and over two and a half years I received seven Kansas Press Association Awards from my peers, earned the trust and respect of the people of Kiowa County and enjoyed every single work-day because I never knew what was going to happen or who I was going to meet." - Patrick Clement

Jack Carson and his collapsible cups
Aug. 8, 2012

MULLINVILLE — As if his wispy curled mustache andcomfortable south-central Kansas twang wasn't interesting enough, ex-circusroustabout and Mullinville native Jack Carson has an expansive collection ofcollapsible cups he'd like to show you.
"I don't really know how I got interested in it, it's beenso long," said Carson. "I would say 20 years ago."

Not long before Carson began collecting the small portablecups, he was an employee of the Jungle Wonders circus, a traveling outfit fromAlabama owned by John "Gopher" Davenport that was in operation in thelate 1970s.
While in jail for passing $190 in bad checks in Garden City,Carson had a visitor.
"The circus man bailed me out and before we left, and wewere standing in the lot, he said 'Now you're bailed out and you can dowhatever you want.' I figured I owed him so I stayed with him for two years,"laughed Carson.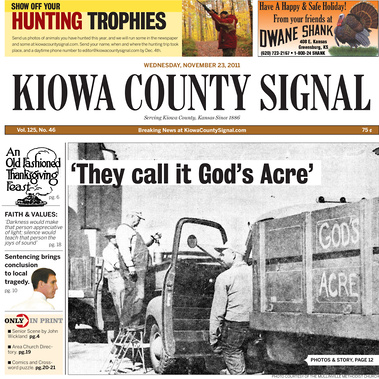 "They Call it God's Acre"

Nov. 23, 2011
MULLINVILLE — Last Saturday the Mullinville United MethodistChurch held its 26th Annual God's Acre Auction and Soup Supper. Localsgobbled up homemade chicken noodle soup, munchedfistfuls of crackers and bid on locally donated items to raise funds for thechurch.
A number of people left the all-day affair with armfuls ofhomemade cakes, chocolates, stuffed teddy bears and gifts. But ask any memberof the congregation and you'll find that the God's Acre means more to them thanany slice pie, cup of iced tea or quilt. It's a tradition that has brought acommunity together; built a church; and inspired a generation of local farmers.
In 1951, following a fire in the basement of the UnitedBrethren Church Rev. C.L. Heatherington, createdGod's Acre.
The God's Acre askedarea farmers to pledge a portion of their annual crop to help build a newchurch. In their first year, the church received 510 acres of wheat and twoacres of milo. Some farmers even donated livestock. In the first year of God'sAcre, the church raised $30,722 from the sale of the donated harvest, whichwould be approximately $250,000 in today's money.
"Different people babysat, they held sales and they did whatthey could," said Doris Headrick of Mullinville. "One lady had a favorite bibleverse and she would give a dollar for every person who would memorize thatbible verse."
In 1953 God's Acre raised 133,737 bushels of wheat and 40bushels of milo, but a drought in 1953 caused donations to fall and the churchraised only $2,997. The harvest was estimated at only 25 percent of what it hadbeen the previous year, nonetheless construction on the church began in Apriland was completed in October of that year.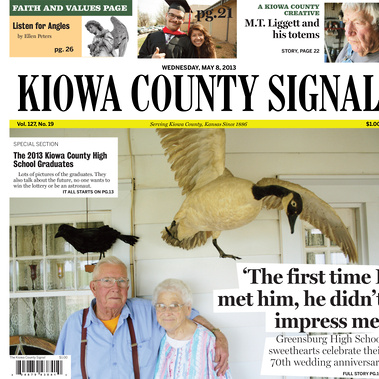 'The first time I met him he didn't impress me'
May 8, 2013
KIOWA COUNTY — Laurence and Pauline Schwarm, Greensburg HighSchool sweethearts, will celebrate their 70th wedding anniversary onMay 21 with family and friends.
The only boy in a family of five girls, Laurence was afarmer's son from rural Kiowa County. His grandfather, Fritz Schwarm, and hisgrandmother, Marie, the daughter of a Navajo reservation teacher, were thefirst of the family to move to Kiowa County.
"I was born little," said Pauline. "They kept me in ashoebox on the oven door to keep me warm. Of course, I don't remember that."
Pauline (Cory) Schwarm was a city girl. Her family soldtheir wheat farm on the outskirts of Greensburg and moved to a house in townwhen she was young.
"The first real vivid memory I have is seeing a wheat fieldburn, because a combine had backfired or something," recalled Pauline. "Mymother was crying and I thought 'how silly, it's just a wheat crop.' But ofcourse that was their livelihood."
In 1938 Laurence's school, formerly the Hopkins School, wasconsolidated with the Greensburg School District.
"I was a country boy, I didn't know anything about what wasin town," said Laurence. "I knew two people in my class and those were two kidsfrom my rural school. I was just scared to death. I didn't know anybody, didn'tknow where to go, the school was so big. It was terribly big to me."
Pauline and Laurence were in the class, both planning tograduate the same year. The couple barely noticed each other until their senioryear. "I think I met him them, but he didn't impress me," laughedPauline.
"Sentencing brings conclusion to local tragedy"
Nov. 23, 2011

GREENSBURG — Mark H. Ralstin appeared in Kiowa County Courton Wednesday morning for sentencing on his July 21, 2011, second-degree murderconviction. Ralstin was convicted by a jury for the intentional murder of hiswife, Bobbie Jo Ralstin,on the night of Nov. 6, 2009. Ralstin showed no emotion as Judge Daniel Love first denieddefense attorney Sal Intagliata's motion of downward durational departure, thensentenced him to the maximum 165 months. Love listened as Shirley Radcliff, the mother of Bobbie Jo,read a statement aloud. A visibly shaken and sobbing Radcliff spoke as Ralstin,showing no emotion, listened from just 10 feet away.
"I come before you with a real sad heart," sobbed Radcliff."There's no justification for what Mark Ralstin done. He's supposed to be sucha spiritual man but the night that he shot and killed my daughter; there was nospirituality in him. He was a cold-blooded murderer. There is no sentence thiscourt can hand down that will right the wrong Mark Ralstin did to Bobbie Jo,her children her family and most important, god."
'We will see the murderer in his eyes'
Oct. 24, 2012

On the eastern most edge of the county, just a stone's throw from the Pratt Countyborder, is the town of Wellsford. As the century turned it was an up-and-comingtownship with a growing population, a stop on the rail line and a handful ofnotable residents. On aWednesday evening in 1889 the lifeless body of O.W. Kennedy was found near therailroad tracks on the outskirts of Wellsford. Kennedy, the younger brother ofa local foreman was taken to a nearby station house and pronounced dead by thecoroner.
Theofficial cause of death was "apoplexy" and reports did not indicate any damageto the body. In the late 1800s apoplexy was a word used to describe a suddenloss of consciousness prior to death. Localsspoke in hushed tones about the discovery, noting that Kennedy had been foundwith his eyes wide open.
A.W.Balfour, the deputy sheriff of Kiowa County, rushed to Wellsford in weatherthat was described as "a soaking rain." He was accompanied by his close friendMajor Neeley Noble and arrived "drenched to the skin."It wasBalfour and Noble's belief that they could solve the murder through a dated andmacabre technique then known as kine-probing. Sloshingthrough the loose mud on the edge of the Sand Hills, Balfour and Noble exhumedthe already deteriorating body of the young Kennedy and with near medicalprecision photographed the iris of the victim, believing they would be able tosee his murderer in the pictures.
Theresults of the investigation were never revealed, although it is believed thatthe Greensburg photographer who developed the photographs burned them on theorders of Balfour. Balfour,who was gunned down in 1892 by Dalton Gang tough guy Zip Wyatt, never discussed what he saw or didn't see in the photographs.